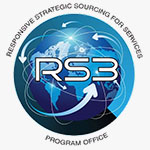 Contract Name: US Army Responsive Strategic Sourcing for Services (RS3)
Contract Number: W15P7T-19-D-0031
Sponsor: Department of the Army
Contract Period of Performance: 10/18/2018 – 5/14/2022
Task Order Types: Cost Reimbursement, Firm-Fixed Price (FFP)
Responsive Strategic Sourcing for Services (RS3). RS3 is a $37.4 billion 10-year IDIQ contract with 261 prime vendor awards. There are 65 large prime vendors and 196 small business vendors. The RS3 vehicle is a consolidation of two previous contract vehicles: Strategic Services Sourcing (S3), and Rapid Response 3rd Generation (R2-3G). It covers services to support command, control, communications, computers, intelligence, surveillance, and reconnaissance systems, also known as C4ISR. The objective of the vehicle is to support the lifecycles of those systems as efficiently as possible.
Basic Contract Scope:
Provide US Army ACC-APG customers, other Program Executive Offices (PEOs), other Department of Defense (DoD) agencies, and other federal agencies with knowledge-based support services for requirements with Command, Control, Communications, Computers, Intelligence, Surveillance, and Reconnaissance (C4ISR) related needs.
Engineering
Research, Development, Test and Evaluation (RDT&E)
Supply Chain Management, other logistical functions Logistics
Acquisition and Strategic Planning
Education and Training
Acquisition Planning
HR Support
Risk Management Support
Augmented/Virtual Reality
Cloud
Data Analytics
Cybersecurity
Artificial Intelligence
Prototyping
DI Points of Contact:
Sales, Teaming Coordinator
John Marcinek, 703-624-7987, john.marcinek@di-llc.com
Quality Assurance and Customer Satisfaction
Jim Scarpello, (856) 983-5955 ext. 112, james.scarpello@di-llc.com
RS3 Ordering Information:
RS3 Buying Information – "ACC-APG RS3"
Quality Assurance Program:
Please see "Quality Processes" for a description of DI's Quality Assurance Program applied to this contract.